Spray toothpaste mouthwash
100% natural. Fresh breath, healthy gums


The MI FIDO spray toothpaste mouthwash, with pure essential oils and organic Marigold extract, is able to prevent the formation of dental plaque and therefore of halitosis.
The pure sage essential oil, with organic Marigold estract, acts on the gums, protecting and toning up them.
The MI FIDO toothpaste, thanks to its spray formula, is able to reach even the most hidden corners of the oral cavity, guaranteeing a complete oral hygiene.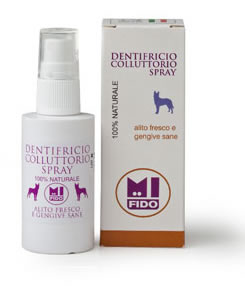 50 ml plastic bottle with spray and carton box.
| | | |
| --- | --- | --- |
| | | |
| | Mi Fido is ditributed by Telca | |
| | | |